WRITER
Screenplays, Teleplays, Plays, Novels
Dozens of Screenplays, Plays, & TV Pilots
MY NOVEL:
RED THE CAT Starting from Scratch
RED THE CAT loves his life chasing gophers and being cared for and loved by his forever human companion, Maribelle. But life does have its unexpected twists and turns. Red exhausts his ninth life under the wheels of a car. Red's soul is zapped up to Greener Pastures, Feline Section. But Red doesn't want to convalesce under leafy green trees and soft green grass. Red decides to come back to Maribelle by taking his once-in-a-cat-chance called jumping. Join Red the Cat as he tells his tale of his love-inspired risky cat-astrophic adventure.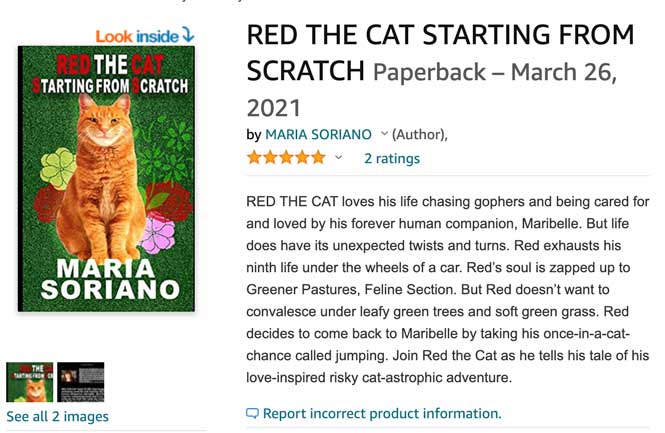 BUY IT:
RED THE CAT Starting from Scratch
Maria L. Soriano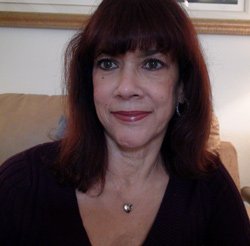 I was a professional dancer for many years before becoming a screenwriter, playwright and novelist. I studied flamenco, ballet and jazz and traveled as a soloist throughout the U.S., Central America, the Caribbean and Europe. Although I have a dancer's spirit, my passion is writing. As a journalist, I wrote for several publications. Being a story-teller, I love to write in many genres, i.e. action-thrillers, supernatural & psychological thrillers, comedy, family drama and fantasy/ adventure. My stories portray ordinary people who face difficult situations and become extraordinary.
I'm a member of the Alliance of Los Angeles Playwrights and the Dramatists Guild of America. I have a Journalism Degree, have completed coursework in Theatre, film and television and am a ScreenwritingU Alum. I have over 20 years in the entertainment industry. I've worked at Walt Disney Studios in the Script Clearance Department and at Marshall-Plumb Associates as a Legal Script Researcher.
FILMMAKER WITH GROUND SQUIRREL ENTERTAINMENT
Producer, writer of short film "Lie In Wait" (IMDB)
Writer of Short film "Partners" (IMDB)
Writer of Short film "New Hire" (IMDB)
Producer, writer of "Precious, The Cat Vlogger" – Webseries on YouTube
AWARDS
"Lie In Wait" Feature Screenplay 2021 Capital Fund Screenplay Contest Hot Top 100
TV Pilot "Imp Perfect," quarterfinalist in 2021 Scriptation TV Writing Competition
"Megahertz Kid," semi-finalist in 2020 Stage 32 4th Annual Sci-Fi/Fantasy Screenwriting Contest
Action-adventure Screenplay "The Grand Alchemist" quarterfinalist in 2017 Zoetrope Screenplay Contest
Screenplay "Shalimar," won the Grand Prize in the Movie Script Family Category in the 2016 Screenplay Festival
Action-adventure Screenplay; "Cargo Jack," finalist at the 2015 Hollywood and Vine Film Festival and quarterfinalist in the 2016 Screencraft Action Thriller Film Contest
Screenplay Sci-fi thriller "Megahertz Kid," Official Selection as a screenplay in 2016 Beverly Hills Film Festival.
STAGE PLAYS
One-act play, "Bliss," produced at L.A.'s Empty Stage
"Two Sensitive Guys," produced at the Avery Schreiber Theatre
"Blame It on the Full Moon," participated in ALAP Annual Reading Festival
Comedy play "Wine, Women and Aromas," winner at Stages Repertory  in Houston, TX, Hispanic Playwrights Festival
Drama, "Pray, Pray, Pray," produced by the Vagabond Players Theatre Company
Dance ballet "L.A. Journey," played in the production of "Jazz Dance L.A." at the Alex Theater in Glendale, CA
Musical "Life Is a Song An' Dance," played at Los Angeles Valley College's Horseshoe Theatre
LIE IN WAIT | SEPT 6
SHORT DRAMA| 9PM -10PM BURBANK AMC
BURBANK INTERNATIONAL FILM FESTIVAL
SEPTEMBER 4-8 2019
Nothing appears to be what it seems… Decipher the mystery by delving into Angela's gripping supernatural world. Fifteen-year-old Angela must choose between two paths. Should she graduate to the prestigious university located in the distant luminescent Higher Lands or should she give in to the temptation to follow her cool and new exciting friends, Jagger and his gang of Shadows, barbarians from the dark and dangerous Lower Lands? Having been kept a secret from her family by her mother, Angela realizes that, if she graduates, the transition will take her even farther away from them. Jagger and the Shadows promise Angela that they will unite her with her family, only if she joins them. Little does Angela know that Jagger, filled with lust, intends to drag Angela down to the Lower Lands, and Angela may never come back.